While many students may find this of interest, it is ALSO a Reflection opportunity (Extra Credit) for those currently in HDFS 2367.
From the OSU Center for Regional and Urban Analysis website:
https://cura.osu.edu/events/food-security-healthy-communities-panel-discussion
(Go to that website to RSVP if you are attending this event and pay attention to request that you bring your own reusable container for beverage. Lunch is provided.
Food Security & Healthy Communities – Panel Discussion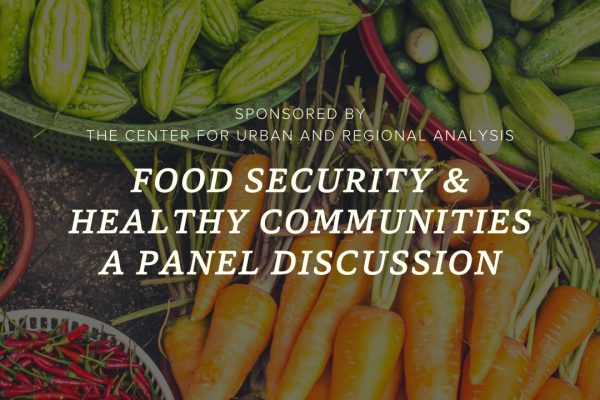 January 24, 2020
12:00PM – 1:00PM
Location
Thompson Library (Room 165), 1858 Neil Ave, Columbus, OH 43210
Description
Food Security & Healthy Communities – Panel Discussion
Moderated by Harvey Miller, PhD, Director, Center for Urban and Regional Analysis
This event is free and open to the public. Lunch is provided. In the theme of sustainability we ask you to please bring your own reusable beverage container. 
Nearly 11% of the world's population are food insecure or malnourished, and it may get worse: by 2050 farmers will need to produce almost 60% more food than currently. In Franklin County Ohio food insecurity is affecting Columbus neighborhoods. The type of food that is available to residents in these neighborhoods also plays into food insecurity. People who live in areas that do not have easy access to supermarkets tend to rely on stores that sell nutritionally-deficient or more expensive food. Transportation services, sidewalks, and the availability of crosswalks are also variables in residents' access to healthy food options.
Our panel consists of experts from the City of Columbus – Cheryl L Graffagnino, Franklin County – Brian Estabrook, OSU Extension – Karima Samadi, and the College of Engineering, Knowlton School of Architecture – Kareem Usher. Our panel will bring new insights into the topic of food security and hopefully answer questions we have as it related to food security and our community.
Panelists Bios
Cheryl L Graffagnino – is the Local Food Systems Strategies Coordinator for the City of Columbus Public Health Department. Cheryl is a registered dietitian who joined Columbus Public Health (CPH) in 2009 after 15 years designing, implementing and evaluating adult weight management interventions. Upon joining the CPH team, she led policy, system and environment efforts in early childhood obesity prevention serving as the co-founder and chair of the Growing Healthy Kids Coalition and co-authoring the City of Columbus Early Childhood Obesity Prevention Plan. Cheryl assumed her current role in March 2015 to lead CPH's local food system efforts, including development of the Columbus & Franklin County Local Food Action Plan. In this role Cheryl is responsible for identifying and connecting innovative efforts to improve food access in Columbus neighborhoods, especially those most affected by health disparities.
Brian Estabrook – is a Food Systems Planner focused on improving the well-being of people and their communities by co-creating a sustainable, equitable, and resilient local food system that benefits all people. As Food Systems Planner for Franklin County, Brian both develops the network and catalyzes the infrastructure required to ensure successful implementation of the Columbus & Franklin County Local Food Action Plan (LFAP). Brian serves on the Joint City-County Local Food Team and liaises with the Columbus & Franklin County Local Food Board to facilitate implementation of the LFAP. In his personal time, Brian enjoys biking, running, reading, and the excellent company of his partner and their three dogs.
Karima Samadi – Karima has engaged in food systems work for over 10 years, in various programs ranging from child obesity prevention to agricultural education. She leverages her research and public health work in food insecurity to influence policy, systems, and environmental change through community-based participatory research. Previously, she was the Extension and Research Coordinator and helped manage and coordinate three research projects: Food Mapping for Empowerment, Access, and Sustainable Transformation (FEAST), Healthy Eating, Active Living – Mapping Attributes using Photographic Participatory Surveys (HEAL MAPPS), and Voices for Food. Currently, she is the PROSPER Prevention Coordinator for OSU Extension. PROSPER ( PROmoting School-community-university Partnerships to Enhance Resilience) is a delivery system that facilitates sustained, quality delivery of evidence-based programs that reduce risky youth behaviors, enhance positive youth development, and strengthen families. Karima is the Co-Chair for the Franklin County Local Food Council (Columbus, OH).
Kareem Usher – Dr. Kareem Usher is an assistant professor of City and Regional planning in the Knowlton School. His research interests focus on urban food systems and he engages this topic at the intersection of food access, social justice, regional governance and community economic development. Dr. Usher's work involves utilizing mixed-methods and community-based participatory research methodologies to explore perceived as well as objective measures of access to healthy food of food-insecure families in low-access ('food gap') communities. These interests are currently being expressed through his work in communities regionally and internationally. Dr. Usher is currently leading a project in the (South) Linden neighborhood of Columbus, Ohio that aims to develop a 'food processing hub' that would provide employment for previously incarcerated persons while supporting Ohio State University's efforts to increase the amount of local and sustainable food served to its students. He is also collaborating on a 'food aggregator' initiative in Mansfield, Ohio, and a project in the Toledo District of Belize where Dr. Usher and collaborators explore the drivers of food insecurity and agroecological change in the Maya milpas of southern Belize.